Thinking outside the box
17/04/2012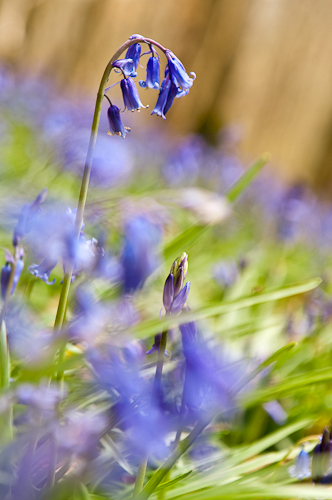 This last week I've spent the usual couple of days getting the monthly Newsletter all together, bits and pieces uploaded to the web and then sending it out. Once I had pressed the return key I was then in New Forest mode for a project I am working on.

It can often be difficult working on your own patch. Because you see it every day, complacency can set in. That's one of the reasons for the project really, to push my photography harder. So, I've been scanning the map I know so well, looking for areas I haven't visited recently and treading the mud to rekindle my knowledge.

Nowadays there is a real plethora of good imagery around. Look through any of the seemingly increasing number of photography magazines on the shelves at WH Smiths and there will always be a picture that you would be pleased to have in your portfolio. The danger then comes that you go and find those self same tripod holes to mimic the shot! Thankfully, changing light and weather conditions always makes the shot different and your own, a good thing.

This last week, while out and about in the 'Forest I have seen the first few bluebells evolving from their dormant state. Bluebells do not make carpets as such here. That's mainly due to the wildlife eating them all! There are a few 'doormats' around but no vast expanses. In my garden, they are out standing proud and tall in full bloom, but in the forest they are very sporadic. It's strange really as a trip to Dorset at the weekend saw carpets of the blue hue in some favoured haunts.

Keeping abreast of mother nature's timings is always worthwhile. Being aware and proactive at your craft will always pay dividends. I remember in my early days asking a forester when the red deer rut would begin, only to be told that it had been and gone – another year missed. It's a bit like what I do in the autumn. The longer you leave the leaves the stronger the colour, but the more chance there is that the leaves will be blown off the trees. I usually start shooting quite early for the autumn season, going out frequently to take images capturing the changing colours progressively. I know that the early images will inevitably not be used, but at least I have recorded them for that year, just in case. I could wait and wait for the ideal light and colour only for the leaves to be blown away in an instant by an overnight gale – not unknown in late October!

Bluebells are another case in point. My bluebell workshops are always a bit nerve wracking. Will they be out or not? Luckily for the clients I don't leave such things to chance. The area I go to is in a valley where one side comes out in bloom earlier than the other giving me a wider window to run the days out, which has lead to successful workshops so far. (Yes I am touching wood!)

The recce last weekend was very promising with the best yet to come I feel. However, we have all seen, and maybe already have images residing in our portfolios, of carpets of bluebells. No doubt the magazines will be full of them. So thinking outside the box is the order of the day I feel. I was watching my wife Julia, painstakingly adjusting composition and focus working with her tripod and macro lens whilst lying on the chalky soil, (see Ian Badley on Facebook), I was thinking hard. What could I do that is slightly different? Not that anything is totally new you understand, but hopefully it will make people look a bit longer. Differential or selective focus was going through my mind. What I needed to find were two bluebells on the same plane - easier said than actioned. Once found I then had to position myself in such a position to produce the effect I envisaged. There was enough light to use my DOF preview, which I did and then altered aperture accordingly. I am quite pleased with the result. You look at the tall bluebell, heavy with flower drooping over and then follow down to the younger bud poking out through the leaves. The rest is a pastel blur of colour.

Thinking outside the box adds impact.

Keep practising
I am.