New Forest Autumn Colours
06/11/2017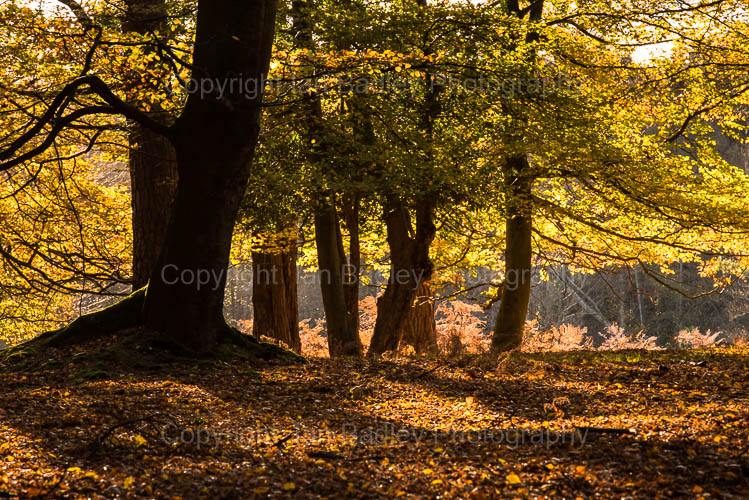 It has been a strange season this year for autumn colours. Last month I travelled from the north of Scotland back to the south of England and there was no major change in the foliage colour along the whole route. With the uncustomary warm weather obviously being a factor mixed with a few gales I think the trees haven't known whether they've been coming or going!
Over the past week or so, in addition to driving through the New Forest as I go about my business, I have also been on specific recce to check the progress – or should that be regress – of the leaves, and to be honest, I've been disappointed this year. It's definitely not a vintage year in my opinion.
Nevertheless, with good light forecast I ventured to some of my favourite New Forest haunts yesterday. It's weird because most of the birches are devoid of leaves, some of the beech are still more green than yellow or orange and the oaks are in a similar state of confusion it seems. Cloud cover low on the horizon was going to block any directional light later and in any case, at this time of year it can be quite weak.
As I am a fan of backlight for autumn colours, I found myself some specimens and waiting for the right moment. It wasn't long in coming but only lasted in bursts of a few seconds before dissipating due to the increasing cloud cover.
I was using my Nikon kit – D810 with 70-200 F2.8 lens mounted for the shots shown here. Some of the images were taken quite wide open at f5.6 – probably my favourite aperture to be honest despite, or probably because of, the reduction in depth of field. Given the right subject matter, this can hone the viewer into the main topic of the shot in my opinion.
As it happens, the square image was shot at this opening at 105 focal length and 1/60th second ISO 320. I was given four attempts at this shot by the strakes of light popping through the cloud. Some I didn't time correctly and some when zoomed in were frustratingly not sharp enough, through my rushed capture. That lead me to pre-empt the bursts by following the light as it moved towards the subject. This was also one the first shoots of the day and getting my body, feet and hands into coordination mode took a few shutter releases. The other more traditional shot was taken at different apertures but in the end I have plumped for the F11 take with the focal length at 165mm.
We had a frost last night. Maybe that will give the trees the impetus to do their thing. We'll have to wait and see. There are some more cold nights forecast and some more bright days also. It may be that some stunning colour backlit by great light is forthcoming over the next few days. There is still time.
Keep practising.
I am